Tingting Wang: Winner of ZJU's Kezhen Zhu Scholarship
Tingting Wang is a graduate student of College of Chemical and Biological Engineering of Zhejiang University(ZJU CBE), who is the winner of the 2019-2020 Kezhen Zhu Scholarship which is the highest scholarship at Zhejiang University.
Assiduously learning from a unfamiliar research filed, she published three high-level research papers as the only first author in two years, one of which was published in Advanced Materials, a top international journal in the field of materials. Furthermore, she participated in more than ten public welfare activities, had a part-time job in Lingyin Street of Xihu District, and devoted herself to grass-roots work.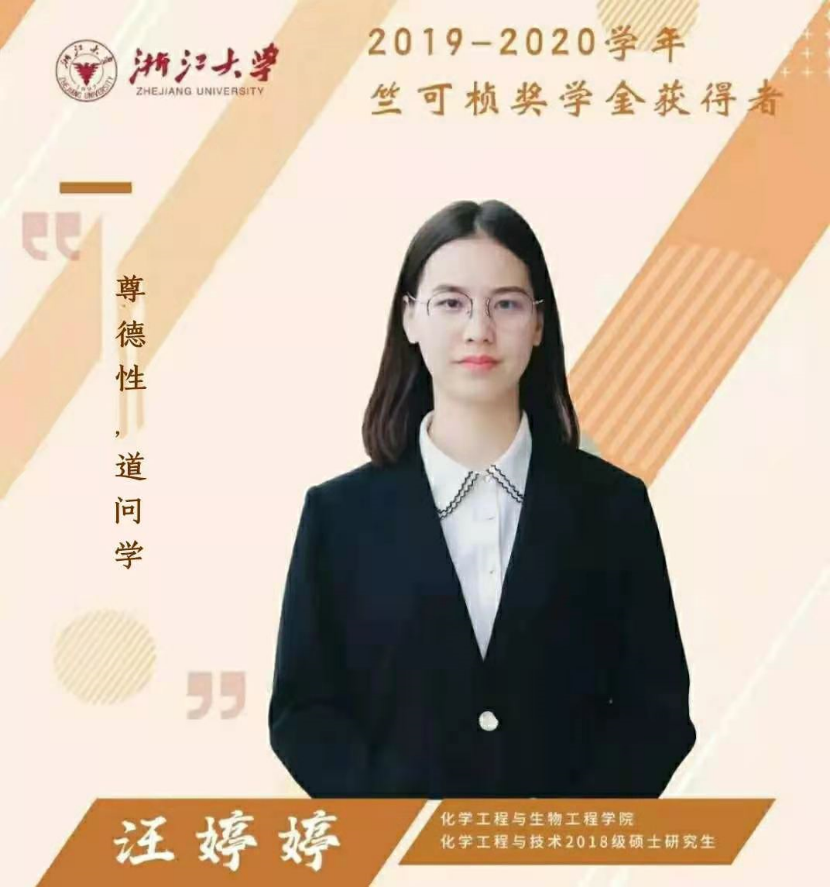 " What I do seems to be chemical engineering, in fact it is quite different, whatever it doesn't stop me from studying it." She said.
Tingting Wang graduated from Tongcheng senior high school in 2014, Anhui. Good at chemistry and biology, she majored in chemical engineering of Hefei University of Technology. With outstanding professional achievements and excellent performance in school, she enrolled in ZJU CBE and began to study the catalyst of carbon dioxide electro catalytic reduction reaction to convert carbon dioxide in the air into carbon-contained fuels.
At the beginning of scientific research, Tingting Wang encountered difficulties. The carbon-based catalyst she studied is quite different from the knowledge system of water pollution membrane treatment she came into contact with when she was an undergraduate. For this reason, she learned from the beginning the field of materials that she had never set foot in. Starting from the relatively basic knowledge such as the characterization of materials, she repeatedly consulted more than 100 literatures assigned by her teacher, read relevant books, and spent more time to catch up with the progress.
From a later start, frequent failures in the initial stage of the experiment, to breakthrough progress, Tingting Wang concluded," In addition to getting rid of distractions, it is very important to devote ourselves to our own work, and carefully read other people's papers. The existing experimental experience can make people avoid many mistakes, which is much more effective than the rash experiment."
"In addition, we still need to emphasize that we should be practical and willing to do it," she said sincerely. "Scientific research is not an illusory thing. If we master scientific research methods, we will always get something after constant attempts."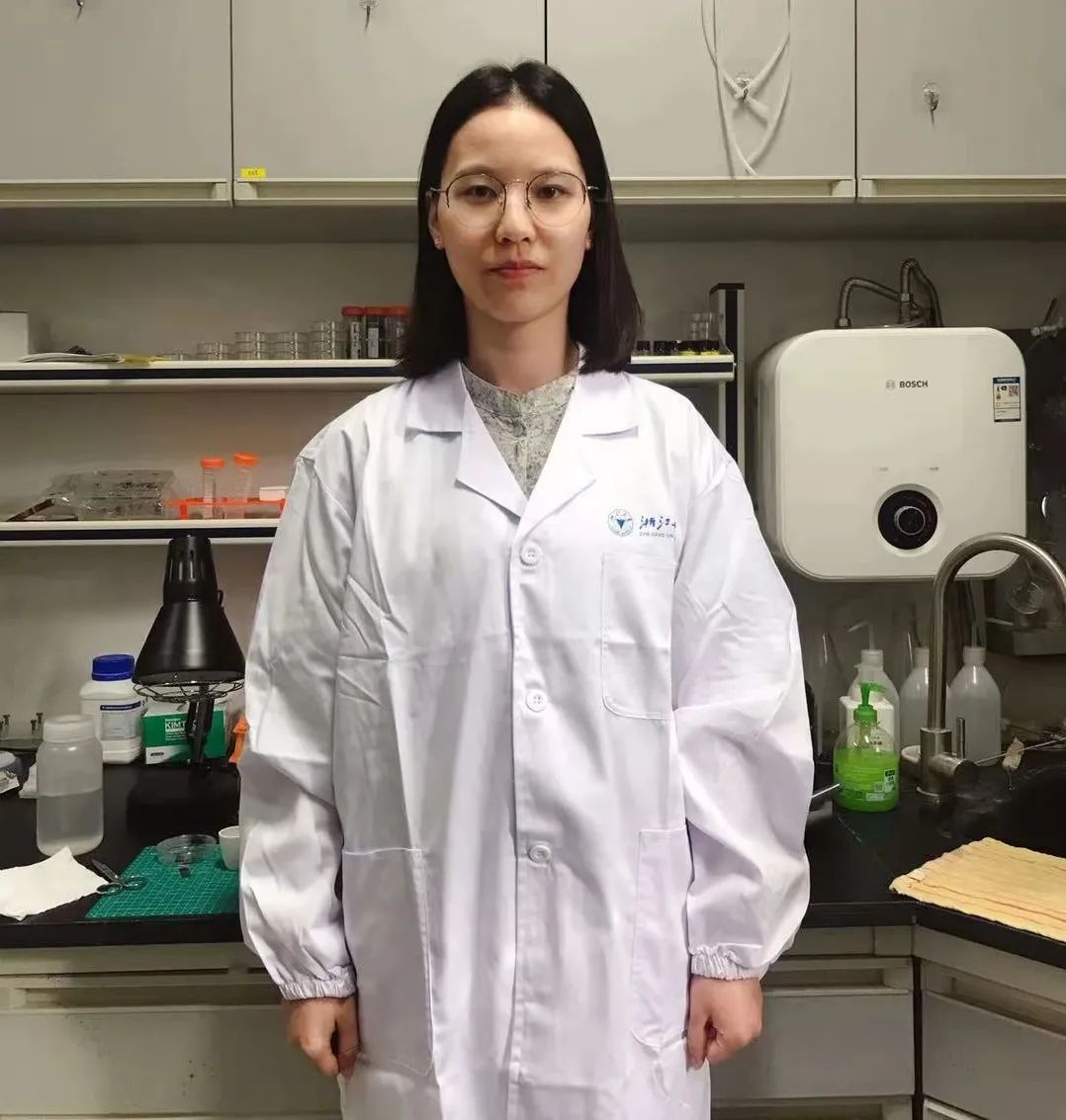 The life of scientific researchers is undoubtedly busy. Most of the rest time is spent in the laboratory, except for the half day break that may be available every week. However, if asked if she would feel lonely in the laboratory, Tingting Wang would say that she did not have such an opportunity.
In the College of Chemical and Biological Engineering of Zhejiang University, the laboratory is full of scientific research partners in the early morning, always focusing on the experiments in hand. "It allows me to get into work as soon as I get into the lab. As time goes on, they have a more lasting focus. "
Tingting Wang is also infected by her two mentors. "One is very enthusiastic about scientific research. He seems to think about scientific research when he eats and sleeps." " On the way home, he often come up with a new idea. When he sends a voice to tell us, he can still hear the gasp when he is on the way, and sometimes it is mixed with the whir of the subway."
"Another one was very concerned about the students. He sent his overcoat and lab coat to the laboratory and bought a vertical hanger. The students washed their beakers with cold water and their fingers turned red. The next day, he bought a hot water converter to supply hot water to the laboratory." She said, "All these things make me feel very warm."
About one year after entering the University, Tingting Wang 's preliminary research achievements won the excellent report award at the National Environmental Chemistry Conference. "It is the relatively complete scientific research facilities of Zhejiang University and the erudition and patience of professors that make our research more comprehensive, detailed and in-depth." She said modestly.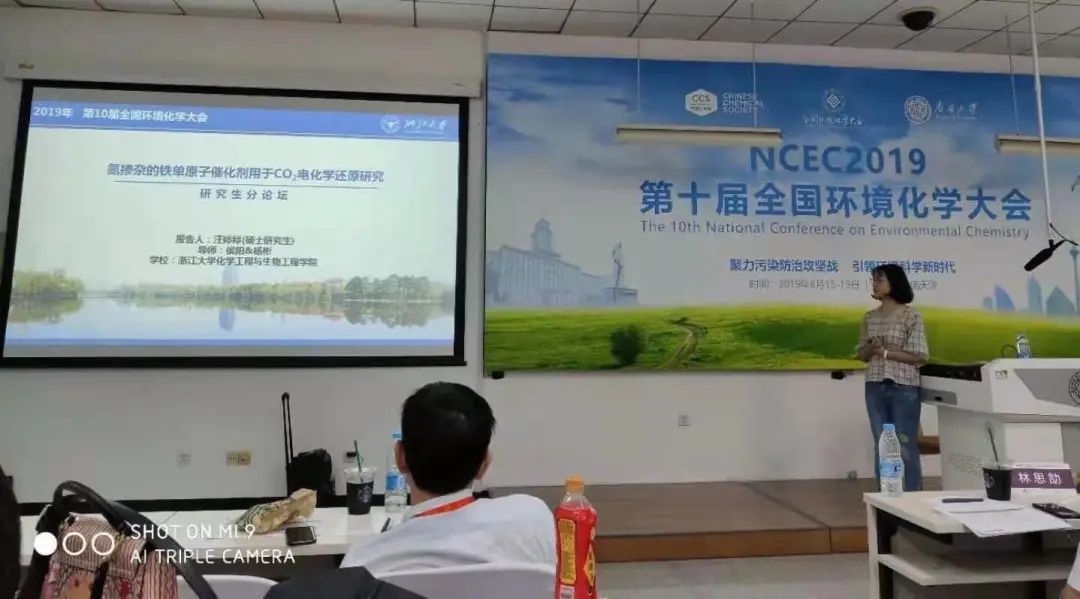 Besides scientific research, Tingting Wang has a very full life. On relatively free evenings, she would take part in some outdoor activities, go to the gym, or dance on the dancing machine with a group of strangers. "When I empty my mind and follow the beat, I get a physical and mental relaxation. At the same time, I met different people, and talking to them made me happy."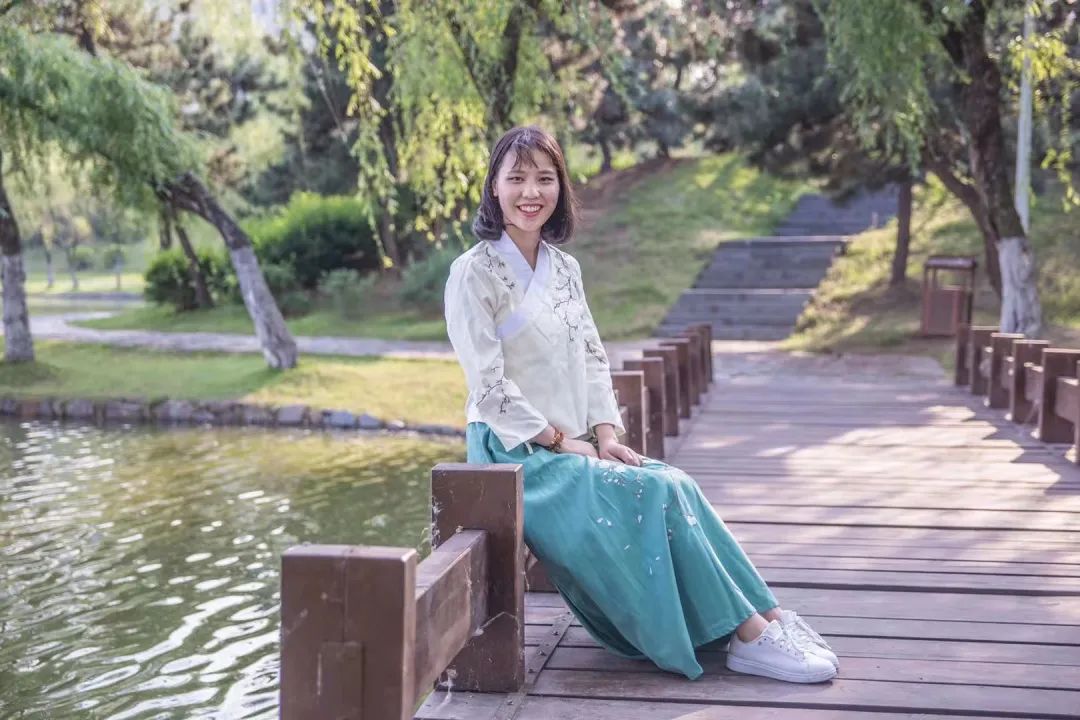 "I want to meet different people and do something for them. This is my duty as a party member. "
In less than two years, Tingting Wang participated in more than ten volunteer activities, including Gudang senior residence, children road travel, platelet donation, "Lei Feng Train" volunteer service, as well as Hangzhou TV Comprehensive Channel harvest festival, civilized city inspection, community public opinion monitoring and other activities. During the civilized city inspection, Tingting Wang visited various businesses one by one to check firefighting apparatus, business license, health certificate, etc. In the old people's apartment in ancient Dang, Tingting Wang accompanied the elderly, chatted and built blocks together, and performed programs for the elderly. She leaded the way for a old woman who comes to pick up her daughter at the subway station, and listened patiently to his experience of being a soldier when she was young while waiting for the car with an old man.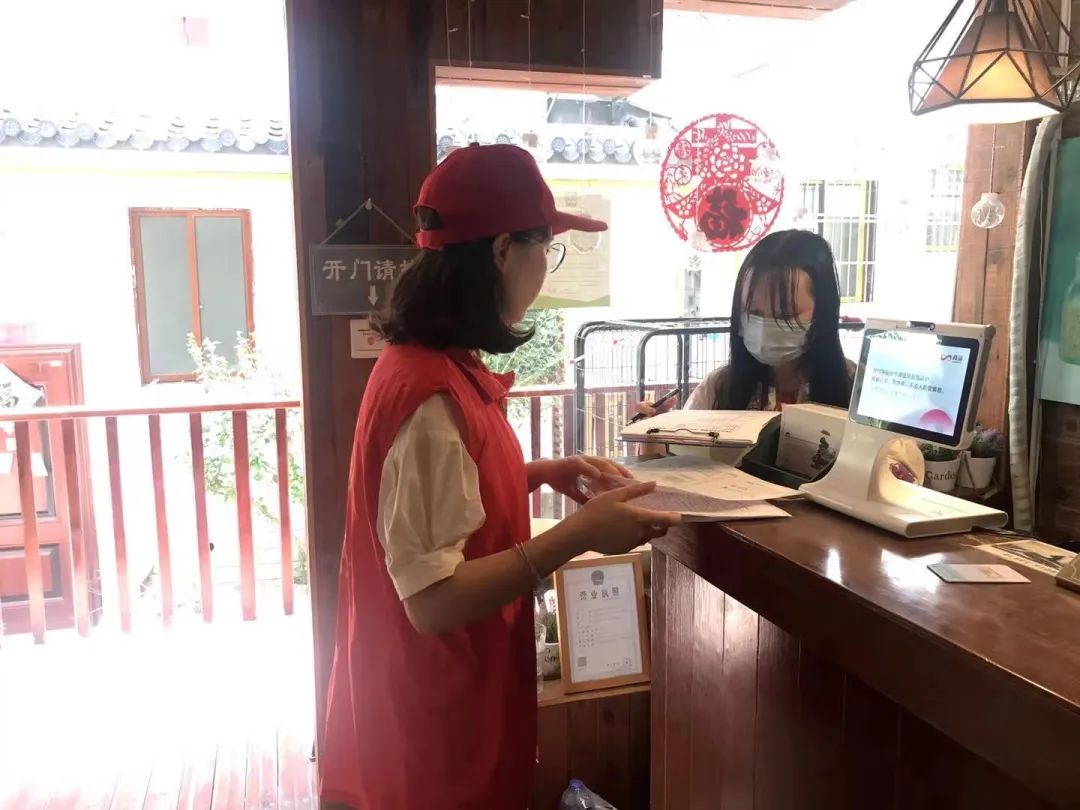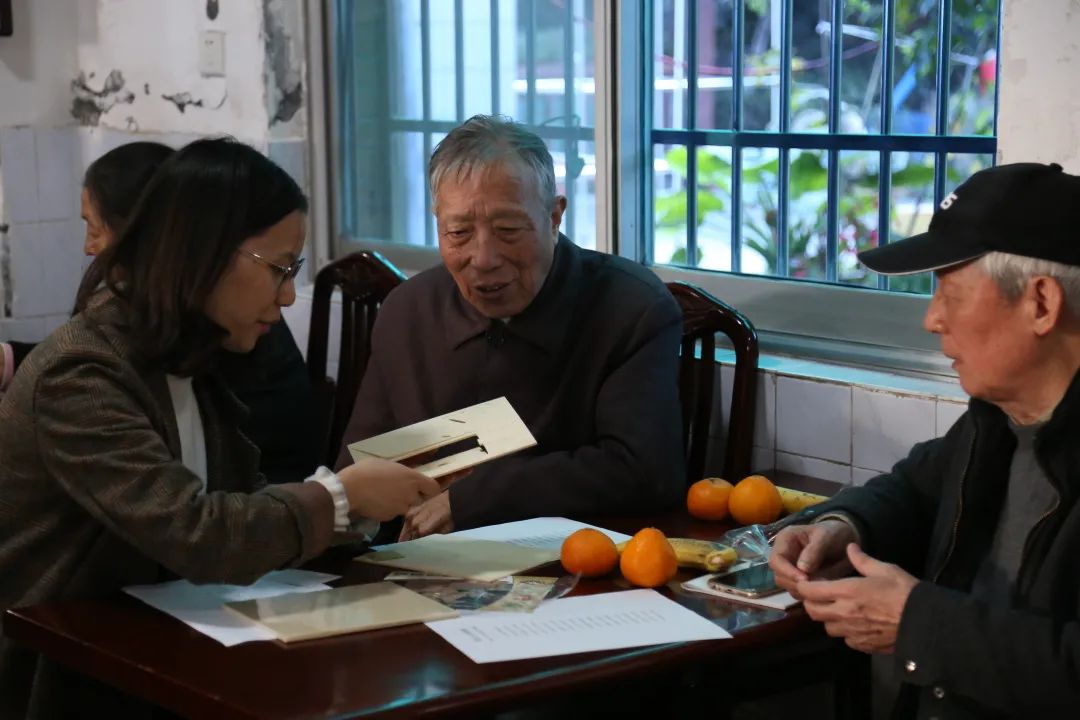 "Sometimes, if you listen to people patiently, you can learn a lot though they may not be fascinating," she said. "I'm happy to meet more people and do what I can for them in time. At present, this process may not give me a sense of accomplishment, but I think it's what I should do. When they are really helped by me, I feel very happy."
For the future, she is full of expectations and firmly continues her enthusiasm for grassroots affairs. Now, she has successfully passed the entrance examination for transferring students, from the ZJU's Qiushi School to a larger platform for serving the people.