MAY 18, 2021
Professor Xuesi Chen Made a Shouheng Lecture on Yuquan Campus
May 14, Professor Xuesi Chen, the member of Chinese Academy of Sciences and Executive Deputy director of Changchun Institute of Applied Chemistry of Chinese Academy of Sciences, gave an academic report entitled "Applications of Biodegradable Polymer Materials" to faculties and students of College of Chemical and Biological Engineering of Zhejiang University (ZJU CBE) in the Lecture Hall of Yuquan Library. ZJU CBE's Vice Dean Pengju Pan, Professor Xie Tao and nearly 100 students participated in the workshop.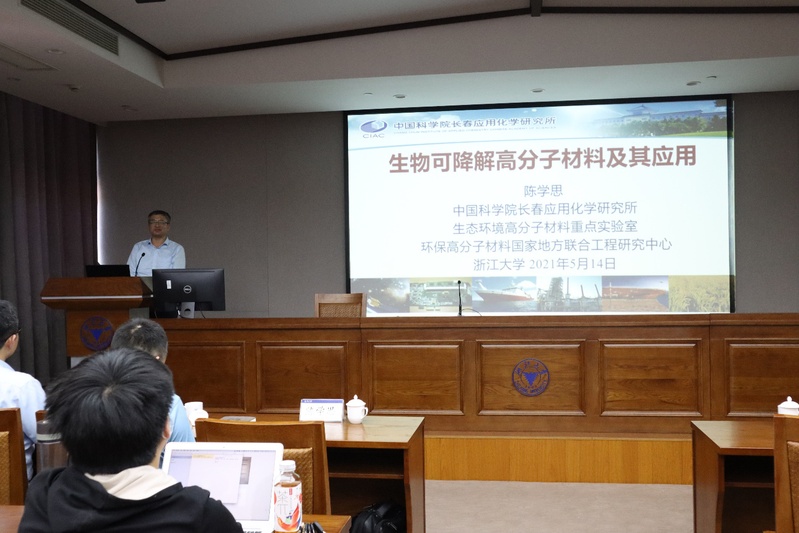 Professor Xuesi Chen firstly introduced the importance of degradable materials in national development. He believes that the current ban on plastic has become the main trend, and China will ban plastic nationwide in 2025. He stressed that polylactide based polymer materials not only can be completely degraded into water and carbon dioxide, but also have good biocompatibility. The source can be corn or starch, which is the most cost-effective biodegradable plastics. At present, the domestic and foreign manufacturers generally have problems such as high cost and limited performance.
Professor Xuesi Chen explained his research group's work from three parts, "biodegradable materials green plastics", "polylactic acid biodegradable medical polymer materials" and "polyamino acid medical polymer materials".
His research group has been committed to the polymerization of degradable materials for many years. Through the stereoselective polymerization of Schiff base aluminum catalyst and its chiral monomers, the related properties of materials have been significantly improved. The group further developed in PLA and ε- The company has solved the key scientific problems in the synthesis and industrial development of caprolactone, and cooperated with Zhejiang Haizheng Company to build a 40,000 tons/year PLA production line, with the overall production technology reaching the international leading level.
Professor Chen also focused on the development of medical absorbable fracture fixation devices, bone defect tissue engineering scaffolds, anti-adhesion membrane, facial fillers and other products for PLA materials. We realized that only by being down-to-earth and deeply working in a field for many years can we transform scientific and technological achievements into productive forces and benefit the people.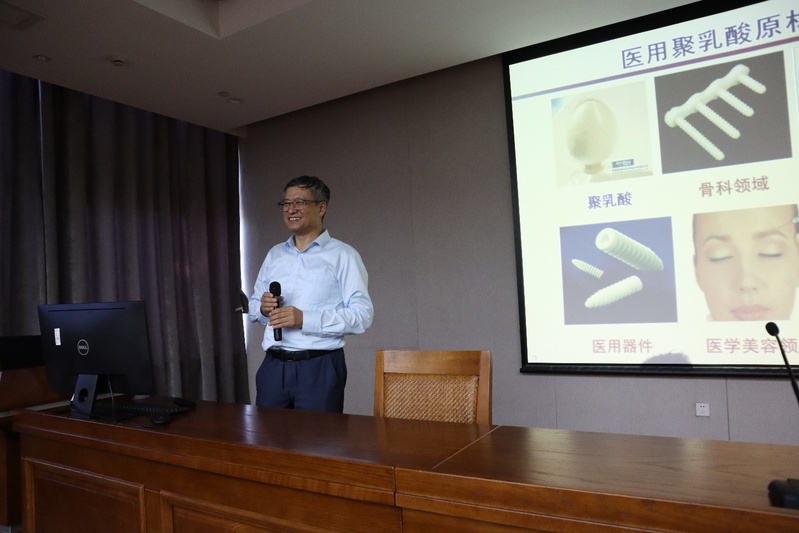 At the end of the report, many teachers and students on the site actively asked questions and discussed with Professor Chen. What's more, Professor Xuesi Chen 's report makes the teachers and students full of vision for the future of biodegradable materials. We also learn that scientific research should not only focus on the innovation of basic theoretical science, but also pay attention to the application of production practice.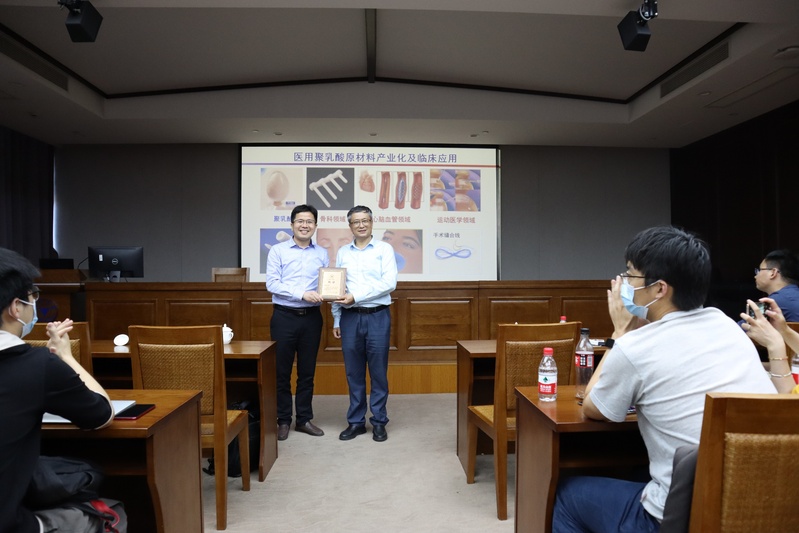 At the end of the meeting, Vice Dean of ZJU CBE Pengju Pan presented the memorial certificate to Professor Chen on behalf of ZJU CBE to express the sincere thanks and sincere wishes of students of Zhejiang University.